Employability skills refer to the skills that an individual needs to enable them to attain employment, keep employment, advance in their careers and do so effectively.
Employability Skills
There are various skills needed in the employment spectrum. These skills need to be obtained and demonstrated before you are employed, during employment and when you progress in your career.
---
Pre-employment
Curriculum Vitae (CV)

In order to get a job you need to compile a CV that is of good quality and tells potential employers who you are and what you know before they even meet you. Your CV must be position and industry specific. It must speak to the potential employer in a language they understand and can relate to. For example if you are applying for an IT internship amongst other things you need to specify the various software and programming languages you know. On the other hand if you are applying for a chemistry internship you need to specify the equipment you are proficient in using and the type of chemistry you specialised in at tertiary education level.
Knowledge

You need to demonstrate that you possess the necessary skills required for the job you are applying for. You need to ensure that you are capable of doing the job you are applying for and are ready to enter employment. You must know the demands associated with the job and the qualities required of an individual within your career of interest. Career shadowing would be a good way to find out exactly what is required of you as an individual within a specific career.
Interview skills

Interview skills play a critical role in determining whether you get the job or not, therefore it is very important that you know what to expect, how to conduct yourself, what you should never do and what you should always do during an interview.

Dress code - when going to an interview you needs to ensure that you are dressed appropriately; smart casual is acceptable but formal wear is preferred.


Preparation (Research) - you must always prepare for an interview by doing your research, know what the company mission, vision and objectives are. Know how you can fit into the company, see what the future may hold for the company, so that you know what to expect once you are part of the company. Look at the job specification carefully and see what examples you can give when asked about your capability to do the job. Understand how your knowledge fits into the position you are applying for and apply it accordingly.


Questions - there are certain questions that are usually asked during an interview. You need to find out what those questions are and come up with answers applicable to you. Such questions may be: what makes you think you are suitable for this position, what are you strengths, what are your weaknesses, how do you solve problems? Etc.


Punctuality - when you have an interview you should arrive 30 minutes before the interview starts so that you have enough time to find out where you are supposed to go, get settled and calm your nerves. It is good practice to go to the venue of your interview before you go to the interview so that you donít get lost and you are aware of the environment as well.


Interpersonal skills - interpersonal skills are essential in the workplace, especially in todayís working environment where collaboration is key. The term interpersonal skill refers to communication skills, listening skills and how you interact with others. It is important to display good interpersonal skills during an interview. You must be attentive, express yourself well, and look at your interviewers when they are speaking and when you are responding. Maintain professional conduct but be yourself at the same time. You have to ensure that your body language shows that you are interested in what the interviewers are saying, you must maintain eye contact, show self-assurance and interest.


---
During employment
As an employee you are expected to act and carry yourself in a certain manner that is in line with the organisationís values. Your job may have certain demands and obligations that you need to comply with. It is important to familiarise yourself with what is expected of you and to act accordingly and produce results expected or exceeding expectations.
The below illustration lists some attributes that you will need to demonstrate in the workplace.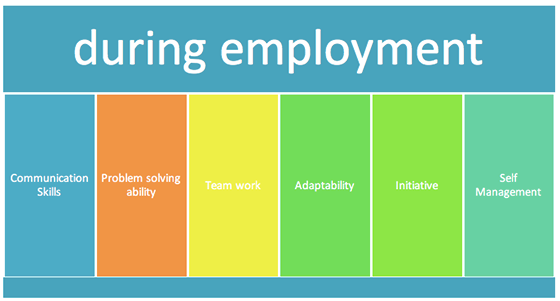 Effective communication is a key component you need to demonstrate, you should show that you are able to communicate your thoughts and desires. This can be done through verbal or written communication. It is important to note appropriate communication practices.
Employers value an individual who is able to solve problems. Providing solutions to problems big or small is a key skill. It is important to constantly enrich your knowledge so that you are well- informed and able to provide creative and innovative solutions.
Collaboration is a large part of work in this day and age. We have to collaborate with a wide range of individuals to meet our professional objectives. Your ability to work in a team and adapt to interpersonal relations is important in the workplace. Working well in a team, knowing your role within the team, fulfilling your responsibilities, working towards a common goal and collaboratively producing desired outcomes will contribute to a successful team. In every organisation you will have to collaborate with others at one time or another, so it is important to demonstrate good team work practices as an employee.
Initiative is an important capability; it allows your supervisor to trust you with the work that has been assigned to you. Taking initiative is an important attribute as an employee, having a self-starter mentality is important to prevent micro- management. Your supervisor will be able to focus on the work at hand rather than checking if you are in fact doing your job. This helps you to build a good reputation and increases your profile in terms of reliability.
As an employee self-management is important this involves your ability to manage work and time. Time management, work load management, planning and monitoring of personal progress are key aspects of building a good work portfolio. These attributes will be noticed especially by your manager.
---
Career progress
We all want to see progress in our careers. Some of us want to become managers, directors or even executive managers. It is important to set goals in your career and to work towards them. Hard work, drive and determination are good attributes and skills to possess. There is no specific formula for success but there are some things you can work on or improve which can assist you in progressing within your desired field. Listed below are tips you can use to advance your career.